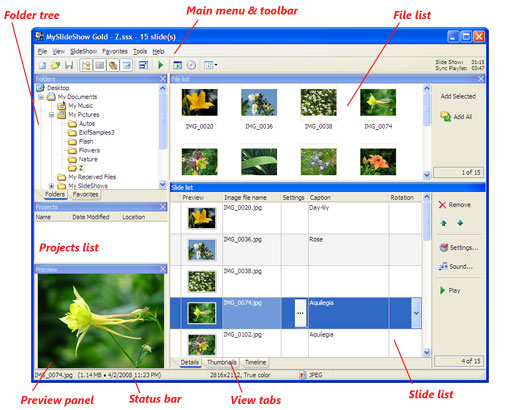 Here is a screen shot of the main window.
The window contains several panels:
Folder tree: use it for browsing through folders on your disks to select folders containing images.
File list: shows image files in the current folder. The buttons at the right allow you to add these image to the current slide show.
File list buttons: allow you to add all or only selected images from the File List to the Slide List.
Slide list: shows slides contained in the current slide show project.
Slide list buttons: allow you to manage the slides and change the project settings.
Main menu and toolbar: most of the commands and options are available here.
Status bar: shows image file name, size, date/time, dimensions, color depth and type.
Projects list: shows a quick-list of your projects. You can add the current project to the list by the File | Add to Projects menu. The Projects list can be managed by the right-click popup menu. To open a project, double-click on it.
View tabs (Details, Thumbnails and Timeline): select the current view of the slide list.
The following screenshots display the Thumbnails and Timeline views of the Slide List. The Thumbnails view allows you to show more slide thumbnails on the screen and drag & drop them inside the list. The Timeline view displays the slides over the timeline of the Sync Playlist that you can edit by the Playlist Editor (click the Sound button).